A Principled Columnist
by Michele Hush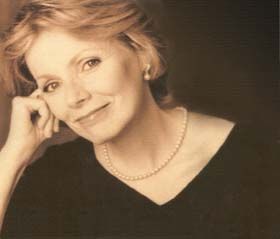 Peggy Noonan — Wall Street Journal columnist, best-selling author of eight books and two-time Presidential speechwriter — is living proof that life is what you make of it. Born in Brooklyn in 1950, Peggy was the third of seven children in a blue-collar Irish Catholic family. After a few years in Massapequa Park, Long Island, the family moved to New Jersey. Life was not easy. Money was always tight on her father's salesman's salary, and throughout school Peggy worked as a waitress. After graduating from Rutherford High School, she took a job as a clerk at Aetna. She began attending Fairleigh Dickinson University at night and ultimately became one of the first members of her family to earn a college degree.
Politically, Peggy, her siblings, her parents and grandparents were Democrats. At age 10 or 11, she peddled her bicycle around her neighborhood distributing Kennedy-Johnson campaign literature and bumper stickers. Things began to change when a friend gave her a copy of William F. Buckley's magazine, The National Review. What she read there influenced her enormously — in fact, she's described the magazine as her "first conservative friend."
She turned away from the Democratic Party for good after traveling with other protestors to an anti-war demonstration in Washington. She was alienated by the views of the well-off radicals all around her and came to think of them as a "contemptuous elite" with no respect for soldiers or families like her own.
She wrote about her conversion this way: "I come from people who were part of the fruits of the FDR realignment — the Catholics of the big cities who fully adhered to the Democratic party in the 1930s and 1940s and never meant to let go — and became myself part of the quiet realignment of the 1980s, in which what had seemed in my youth the party of rich dullards became, almost in spite of itself, the party of the people."
In her book, What I Saw at the Revolution, Peggy wrote: "I left Fairleigh with a degree in English Lit, a Journalism minor and a desire to expose injustice like Ida M. Tarbell and Lincoln Steffens." Like many aspiring journalists, she was advised to get her start outside the New York area so she headed to Boston. She found work as a news writer on the overnight shift at the local CBS radio station, working there from 1975 to 1977. Next she applied for and landed a job on the midnight to 8 am shift at the CBS Network Radio in New York City.
At her new job, Peggy was surrounded by journalism legends — Walter Cronkite, Charles Osgood, Charles Kuralt and an array of veteran war correspondents. She began as a back-up writer for Walter Cronkite and then became commentary writer for Dan Rather, whom she has called "the best boss I've ever had."
By the 1980s, Peggy had become a great admirer of President Reagan, and in 1984 she set her sights on her new dream job: working as a speechwriter in the Reagan White House. She put the word out among her colleagues and, amazingly, heard about an opening. After thorough vetting and interviewing, she got the job. From 1984 to 1986, Peggy was special assistant and speechwriter for President Reagan, working with him on his speech to the nation following the Space Shuttle Challenger disaster and his farewell address. She also worked for President George H.W. Bush, creating for him such memorable phrases as "a kinder, gentler nation" and "a thousand points of light."   
In addition to her Matrix Award, Peggy received the 2010 Award for Media Excellence, and her columns have been lauded as the "best newspaper commentary out there" by the National Journal. No doubt, her work, which has been coined "perceptive, persuasive, principled and patriotic" by Forbes, is thought-provoking for readers of all political persuasions.  
Michele Hush is chief storyteller at Thomson Reuters.