She Deserves Our Attention
by Linda Levi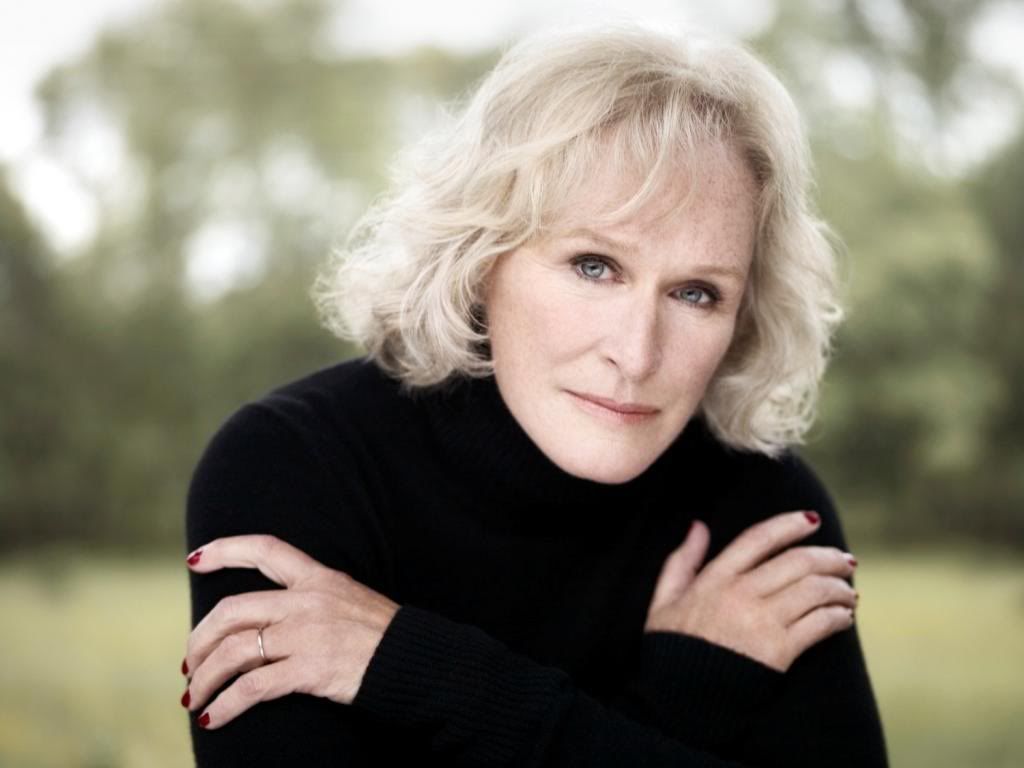 "I won't be ignored" may be among Glenn Close's most memorable lines of dialog, delivered in 1987's "Fatal Attraction," but it's also an apt description for her career.  After all, who can ignore six Oscar nominations, three Tony Awards, three Emmy Awards, two Golden Globe Awards, one Obie Award, one Screen Actors Guild Award and countless more nominations.  These richly deserved accolades are no surprise given that Glenn is hands down one of our most respected American actresses and someone who has "never been afraid to go to the mat for my characters' best interests." 
Born in Greenwich, CT, "I have no doubt the days I spent running free and unfettered in the Connecticut countryside, playing characters in various games, is one reason why acting seems so natural to me," Glenn admits.  In fact, she recalls her young fascination "wanting to be Hayley Mills.  I thought that if I ran away and knocked on Walt Disney's door, he'd put me in his movies."  Turns out her professional training had to wait until Glenn studied theatre at Virginia's College of William and Mary.
Glenn's movie debut, and first Oscar nomination, occurred with 1982's "The World According to Garp," and there's been no stopping her since then.  Roles in such classic films as "The Big Chill," "The Natural," "Dangerous Liaisons" and "101 Dalmatians" followed, to name just a few.  Her latest Oscar-nominated role in "Albert Nobbs" brings her full circle, having first played the role off-Broadway in 1982.  The film, which she co-wrote and co-produced, tells the story of the lonely existence of a virtually invisible human, and Glenn describes it as "the biggest challenge of my entire career.  It's a simple story, but it packs a huge emotional wallop."   For her portrayal of Nobbs, Glenn received the Irish Film and Television Award for Best Foreign Actress, was voted Best Actress at the 2011 Tokyo International Film Festival and was honored at the San Sebastian, Hollywood, Mill Valley and Palm Springs film festivals. 
Her award-winning TV work includes an Outstanding Lead Actress Emmy for "Serving in Silence: The Margarethe Cammermeyer Story," and consecutive Outstanding Lead Actress Emmys for her portrayal of high-stakes litigator Patty Hewes on "Damages."  It also includes her award-nominated performance in "The Shield."  Glenn admits she drew strength and inspiration for the role of Captain Monica Rawling from Deputy Chief Theresa Shortell, Commanding Officer, NYPD Gang Division.  
Glenn's resume includes theater as well, including Tony Awards for her work in "Sunset Boulevard," "The Real Thing" and "Death and the Maiden."  But Glenn is quick to share the credit for her illustrious career.  "I've been blessed to work with generous, phenomenally gifted people," she says.
Glenn's own generosity cannot be overlooked as she supports such non-profit organizations as the Sundance Institute, the Panthera Conservation Advisory Committee and Puppies Behind Bars.  But perhaps most dear to her heart is BringChange2Mind.org, a non-profit Glenn launched in 2009 dedicated to confronting the stigma and discrimination associated with mental illness by helping to translate cutting-edge science in the field of stigma research into effective and measurable messaging.  There is serious mental illness in Glenn's family. "What I should support and call attention to was right in my face," Glenn relates, "so I am using the media to help change people's minds regarding mental illness."  
"I love the chemistry that can be created between actors and audiences," concludes Glenn.  "The energy is molecular."  Her lucky audiences – past, present and future on stage, TV or film – no doubt agree. 
Linda Levi is managing director of LSL Strategic Communications, a NY-based consultancy providing integrated marketing and editorial services to non-profit organizations.