On March 4, 2013, NYWICI presented Cocktails & Conversations: Strategies for Success and How to Leverage Diversity & Inclusion Resources, a panel featuring leaders in the push for more corporate diversity. They discussed career advancement tactics and the need to secure a powerful sponsor in order to ascend into a leadership role.
Although women have made significant gains in the last decade by moving into in senior corporate positions, only 8% of the top earners are women said panelist
Sylvia Ann Hewlett
, an economist, founding president and CEO of the
Center for Talent Innovation
, which supports women and minorities. To move up the ladder, one needs a sponsor, meaning a champion who is prepared to take risks on your behalf, says Hewlett. A sponsor has influence. A sponsor is an advocate. And a sponsor provides air cover so you can take risks. This is goes beyond the role of a mentor who offers advice.
Yet sponsorship is still elusive. Men tend to find sponsors; women to a lesser extent. People tend to promote people who remind them of themselves. But a sponsor can help break through that.
How then can women — and especially minorities — undertake the challenge of burnishing relationships with the people who can help them excel in their careers? Panelists agreed that it's not wise to seek a sponsor too early in a new job. Financial literacy and good business acumen are a must: know what drives profits and align yourself with the company's business goals to be taken seriously. Get good at what you do. There is power in a distinct personal brand, dexterity with social media and the ability to speak multiple languages. Another key: while proving your talent, develop a posse of loyal followers.
Craig Robinson
, executive vice president and chief diversity officer at NBCUniversal, suggested that while looking for a sponsor, also look left and right for those who are your advocates as well. Your champions aren't always in the corner office, and these ambassadors probably know you better than the executives. Make sure your performance is bullet-proof, excel at your job and be nice to those who work for you. You never know when you are going to need help and who will help you.
Judith Harrison
, senior vice president, staffing and diversity & inclusion, at Constituency Management Group, recommended developing your emotional intelligence, finding areas of expertise that you can own, aligning yourself with corporate goals and creating a distinctive executive presence.
Maria Castañón Moats
, chief diversity officer and assurance partner at PricewaterhouseCoopers, brought a sense of realism to the rapt audience: in the end, a small percentage of employees may be identified as talent to be groomed. She used her own beginnings in El Paso as an example of success for others. She discussed how PwC incorporates sponsorship programs as a leadership imperitive. In 2012, PwC was named the #1 company for diversity and inclusion, and for executive women, by DiversityInc magazine.
Moderator
Barbara Frankel
, senior vice president and executive editor, Diversity Inc., who instigated a lively and interactive discussion, asked what holds women back the most. Harrison said the good girl syndrome: the quest for perfection that gets in the way of getting anything done, to be nice. And "to hold the belief that performance will stand on its own," added Hewlett. "It won't. Women need to learn to brag."
Other key points:
Recognize the people of power and influence in your company. Understand the reporting structure and how your department factors into their priorities.
Sponsorship is a 2-way street: be excellent at your job and develop something which distinguishes you from the rest.
Develop relationships with people in the immediate level above you and laterally. Find a mentor and make yourself useful. When your mentor gets promoted, s/he can advocate for you.
Use your emotional intelligence and take a 360 degree view of the company/ department and find something that is missing. Then develop an expertise, something you can own.
From the corporate side, companies can institute sponsorship plans and establish a program to find and review candidates who can be groomed as the next generation of leaders.
The panel was organized by Felicia A. Carty, a NYWICI member and principal of Carty Consulting. "I developed a panel based on Sylvia Ann Hewlett's research with industry executives sharing insights to provide the 'need to know' information that will help people advance within their career and bounce back."
— Reported by Dimitra DeFotis, Michele Hush, Debbie Kunen and Megan Schulz
Slideshow images by Jan Goldstoff 
Event Partners: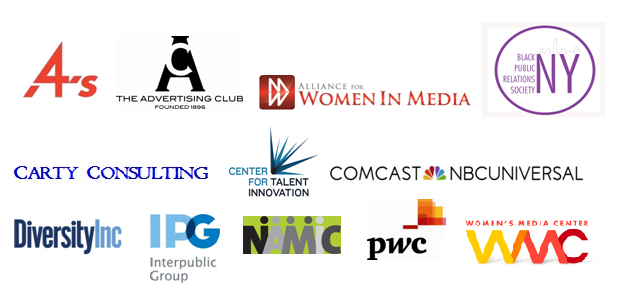 Event type:

Cocktails & Conversations

**