On July 30, 2013, a jovial crowd of NYWICI members and their guests descended on Carolines on Broadway in the heart of Times Square for NYWICI's 7th annual event Ladies Who Laugh.
The comedy night started with a touch of glam, courtesy of a staircase made to glide down, Hollywood starlet style. The dramatic entryway was only fitting for an event dedicated to celebrating the NYWICI Foundation scholarship program.
After all, as Foundation President Judith Harrison noted in her opening remarks, this year's scholarship winners are future stars, right down to the highlight reel that introduced them at the 2013 Matrix Awards. Past and present-day winners were on hand to sell raffle tickets and ensure that the event, planned by former awardees on the Student Affairs Committee, ran smoothly, which it did, amidst much mirth and merriment. Ladies Who Laugh raised $9,000 for the NYWICI Foundation scholarship program, up from $6,500 the year before. Proceeds of the evening will help young women in pursuing communications careers.
Emcee Jenna Wolfe, self-described as "1000 months pregnant," introduced the comediennes and shared her experience about the huge body pillow that keeps her comfortable enough to sleep with her expanding baby bump. Unfortunately, the large pillow bears such a resemblance to an actual body that at one point she mistook it for her fiancée Stefanie and talked to it for quite a while before she realized Stephanie had left an hour before. She also shared her newfound concern about the state of her pelvic wall, and after ushering the comediennes on and off stage with some top-notch shtick of her own, she confessed that performing at a comedy club had been on her bucket list.
Michelle Buteau, the second comedienne of the evening, shared stories of her interracial relationship and weight loss (she works out to fit into work-out clothes). She scanned the crowd and noted our resemblance to Oprah's Book Club. Born in New Jersey to Caribbean parents, Michelle has a keen ability to address racial differences in a sassy manner. Michelle's raunchy routine included hilarious anecdotes of bringing Tupperware on dates, her interracial relationship with her broke fiancée and her resemblance to Lenny Kravitz. 
Jessica Delfino, originally from Maine, sang songs about wanting to become famous and the trials of adulthood in the city — and that's about all that is appropriate to print here. Dubbed the "Lower East Side's Queen of Obscene" by The Village Voice, she strummed a series of upbeat melodies on the guitar, inspiring an audience sing-a-long to the cheerful yet dark lyrics of "I'm gonna kill somebody important". She serenaded us with a raunchy number about the curve balls that life throws at her — something we can all relate to. 
Marina Franklin delved into stories of how to catch her next man and the odd sounds her sister's colicky baby makes that can only be drowned out with lots of wine. Having just lost some post-breakup weight, Marina had the room howling with her rough delivery of her dating tactic — right after she secures a boyfriend, she likes to "get comfortable with each victim" by letting herself go and eating whatever she wants, sitting on and trapping them — and that's how she keeps 'em. 
Kate Hendricks, who calls herself, "Kate The Wasp," entertained the crowd with her stories about living and dating in New York City. She recently moved to a new neighborhood here, called "Out of My Price Range." She spoke about her white suburban upbringing, her business-like relationship with her father, and her mother's criticism, like disapproval of Kate's "unkind resting face". "If my family had layoffs, I'd be the first to go," Kate professed. 
Cory Kahaney tackled marriage and kids. Her son is in the third grade and she acknowledged that this will be the last year she'll be able to help him with his homework. She hasn't seen her teenage daughter smile in months and got real when she imparted some wisdom upon the roomful of women, warning of the limited window of opportunity for promiscuity and loosened morals — "integrity is overrated," she assured us. Cory also shared with attendees how she described the two-party system to her son: Democrats were like the kindly old aunt who always promises to take you to Disneyworld but something always comes up and you never go. Republicans, on the other hand, were like the mean old uncle who says he can't afford to take you to Disneyworld and then you find out he went without you."
The performers could not have been more different; or more alike. Kate may have sniffed at the skyrocketing white wine count. Michelle riffed on interracial dating — with an interracial dater in the audience. Jessica got folks singing up a painfully-metaphoric blue streak. Marina made it clear she was not a cougar in her ill-fated romance, she was a black panther. And Cory could cap it off with a stunning cautionary tale career tip: the vagina card has an expiration date.
But the differences were in the details among these women, and they only served to illustrate the higher truths about laughter: It may be the best medicine and the perfect leveler. That night, Carolines was filled with managers and interns, mothers and daughters, men and women, friends and strangers. But time after time, everyone laughed together and grew a little closer.  
(Reporting by Maris Cohen, Jodi Lustig and Megan Schulz; slideshow images by Jan Goldstoff)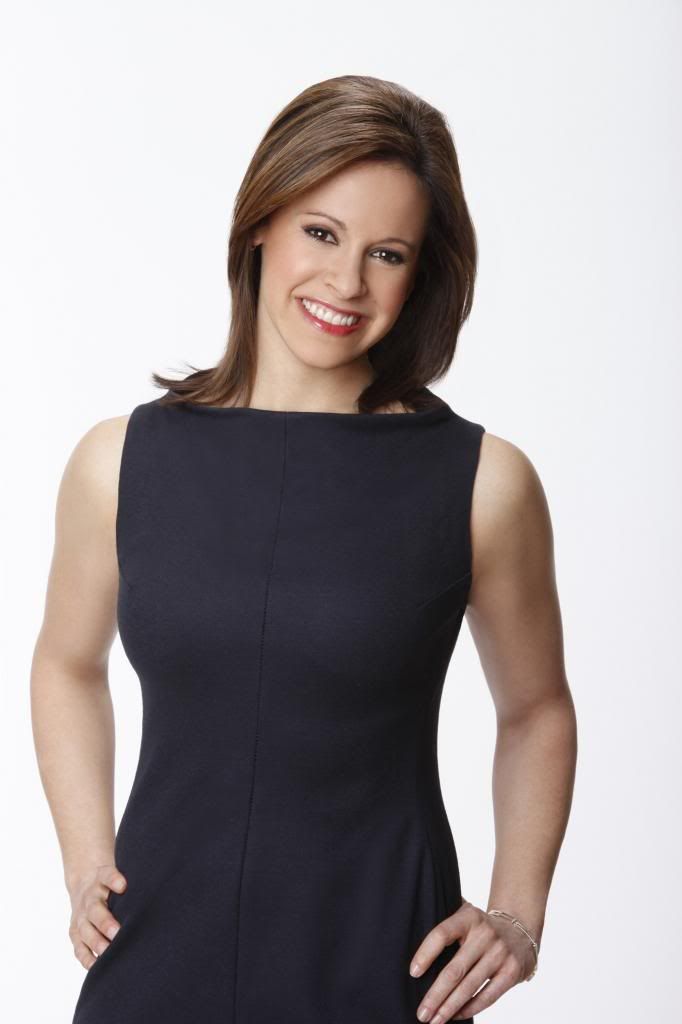 Emcee:
Jenna Wolfe, "Weekend TODAY" news anchor and "TODAY" correspondent
Jenna serves as "Weekend TODAY" news anchor and "TODAY" correspondent, where she covers feature stories for America's top-rated morning news program. Jenna spent twelve years as a sportscaster before joining TODAY in 2007, where she served as an intern back in college. Born in Kingston, Jamaica, and raised in Port-au-Prince, Haiti, she moved to the United States in 1989, so her pop culture references only date back to the Cosby Show and Debbie Gibson. She is fluent in French, Creole and Seinfeld quotes, and can ask you where the library is in Spanish, which, by the way, has never come in handy.
Comediennes: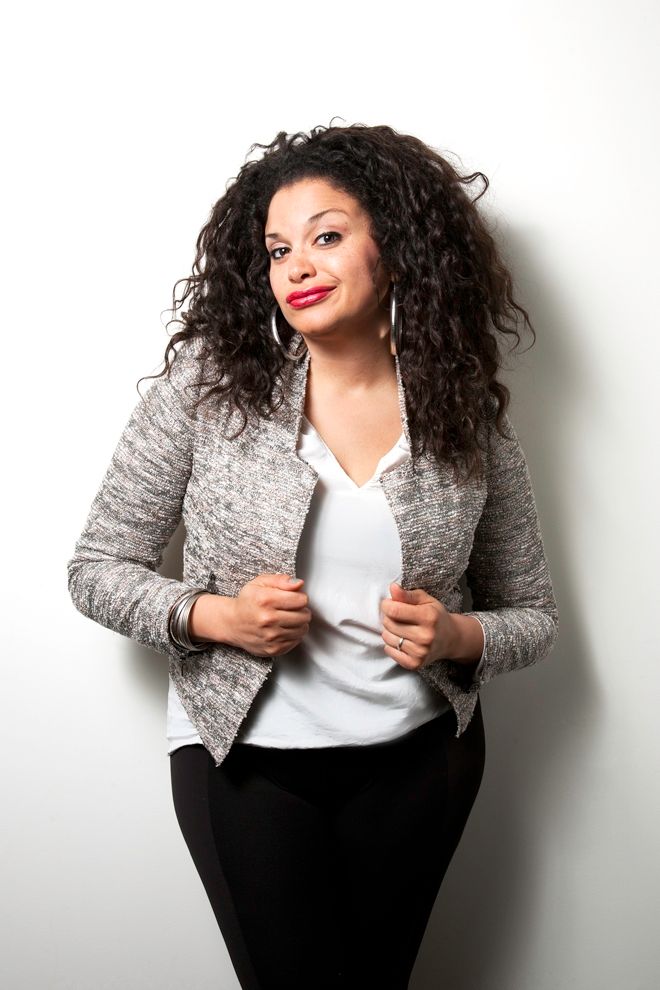 Michelle Buteau
Born in New Jersey to Caribbean parents, comedian/host/performer Michelle brings her unique perspective and big personality to stage and screen. As a comedian, she has toured the country performing at colleges, clubs and comedy festivals. Her television stand-up appearances include the The Late Late Show with Craig Ferguson, Lopez Tonight and Last Comic Standing. Michelle is a series regular on the popular VH1 show Best Week Ever and she is Jenny McCarthy's sidekick on her late-night talk show Jenny.
Jessica Delfino
Jessica is a critically acclaimed and award winning comedian and musician who has performed her comedy songs all over the world. Called "Lower East Side's Queen of Obscene" by The Village Voice and awarded a "Voice Choice" Award for "Best Guitar Slinging Comedian", the "ECNY Best Comedic Musician" award, and a finalist in the Andy Kaufman Award, Jessica has appeared on Good Morning America, the Russell Brand radio show, The Dr. Demento Show, Jackie The Jokeman's Joke Hunt, the historic Loose Ends Programme on BBC4, CNN's Stroumboulopoulos, at the infamous Reading and Leeds Festival, Edinburgh Fringe Fest, Dublin Comedy Festival, on Fox News Red Eye with Greg Gutfeld, on SiriusXM and on stage with Weird Al Yankovic in his Apocalypse Tour. Jessica has also written songs for the "What Would Jesus Buy?" feature film produced by Morgan Spurlock, and regularly performs at NYC's best music and comedy venues such as Joe's Pub, UCB and Ars Nova. She's also a viral video star at YouTube.com/JessDelfino. Jessica is the host and one of the creators of the annual NY Funny Songs Festival. 
Marina Franklin
New York-based Marina is emerging as one of the hottest comedians in the comedy scene today, with such notable appearances as, Craig Ferguson's Late Late Show, The Jay Leno Show, Awkward Comedy Show, Chappelle's Show, Tough Crowd with Colin Quinn, NBC's Last Comic Standing Season II, VH1's Black to the Future, Comedy Central's Premium Blend and Showtime at The Apollo. She is a favorite in Comedy Festivals across the world, like Melbourne Comedy Festival, Scotland's Glasgow Comedy Festival, BBC's World Stand's Up, Rotterdam's Comedy Factory, Montreal's Just For Laughs, Ireland's Kilkenny Comedy Festival, and Nashville's Bonnaroo Music Festival. Marina's career in entertainment wasn't always in stand-up comedy; originally from Chicago, she made her acting debut at the Illinois Rep Theatre. She then quickly realized her love for acting and went on to pursue a MFA in acting at Syracuse University. 
Kate Hendricks
Kate is a New York-based comedian, writer and creator of the web-series Kate the Wasp. Her web-series has been featured on the Huffington Post, The Comics Comic, Hello Giggles, Jest, as well as Cosmopolitan, which named Kate the Wasp one of the "Six Funniest Characters to Replace Liz Lemon." As a stand-up, Kate has appeared at the Laughing Skull Festival in Atlanta, Montreal's Just for Laughs Comedy Festival, and this summer she will make her TV debut on Season 2 of Nickelodeon's NickMom Night Out. She can be found most nights of the week performing stand-up to unknowing patrons at some of the premiere dive bars in Manhattan and the surrounding boroughs. 
Cory Kahaney
Cory is every woman. Mother, daughter, wife…ex-wife. This year, she appeared on The Late Show with David Letterman, made her Fifth appearance on The Late Late Show with Craig Ferguson and a new TV special for Nick Mom. Cory appeared in the first season of NBC's Last Comic Standing and made it to the finale, where host Jay Mohr called her performance "flawless." Other television credits include Comedy Central Presents: Cory Kahaney, The View, and many episodes ofPolitically Incorrect with Bill Maher. Her off-Broadway hit "The J.A.P. Show" ran for six months in New York City and continues to tour the country, re-named "The Princesses of Comedy" Cory conceived and developed "The Radio Ritas," a nationally syndicated radio show for Greenstone Media, a company created by Gloria Steinem and Jane Fonda to provide radio programming for woman. Her one-person show, "Having it all and other Myths," premiered at the 1999 US Comedy Arts Festival in Aspen. "Having it all and other Myths" was subsequently produced as a half-hour special for HBO, leading to development deals with Warner Brothers and CBS. Cory has also been featured three times at the Just For Laughs Festival in Montreal. She was voted best comedian in NYC by Backstage Magazine and Best female comedian by the Manhattan Association of Cabarets.

**