Event location:
Waldorf=Astoria New York, Grand Ballroom
301 Park Avenue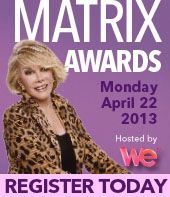 Be sure to follow #MATRIX13 on Twitter for the latest updates.
The New York Women in Communications Matrix Awards Luncheon has been recognized by New York's communications and entertainment community as one of the most outstanding events of the year.
Well over one thousand people gather to salute exceptional women from various communications disciplines including, but not limited to, advertising, arts and entertainment, books, broadcasting, magazines, newspapers, public relations and digital media.
Each woman is presented with the prestigious Matrix Award, a Tiffany medallion.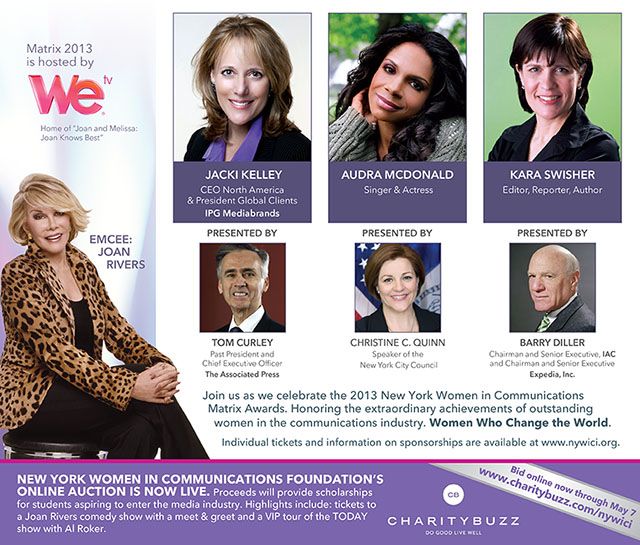 Confirmed Honorees:
Joanna Coles — Editor-in-Chief of Cosmopolitan magazine
Anne Finucane — Global Strategy and Marketing Officer, Bank of America 
Mindy Grossman — Chief Executive Officer of HSN Inc.
Bonnie Hammer — Chairman, NBCUniversal Cable Entertainment Group
Jacki Kelley — CEO, IPG Mediabrands North America and President, Global Clients, UM
Audra McDonald — Singer & Actress
Kara Swisher — Editor, Reporter, Author
Confirmed Preseters:
Mika Brzezinski- Co-host, MSNBC's "Morning Joe," presenting to Anne Finucane
Tom Curley- Past President and CEO, The Associated Press, presenting to Jacki Kelley
Val Demings- Former Orlando Chief of Police, presenting to Joanna Coles
Barry Diller- Chairman and Senior Executive, IAC and Chairman and Senior Executive, Expedia, Inc., presenting to Kara Swisher 
Ryan Seacrest- TV/Radio Host and Producer, presenting to Bonnie Hammer
Date: Monday, April 22, 2013
Time: 12:00-2:00pm luncheon
*Doors will open at 11:30am

The 2013 Matrix Awards will be hosted by


View the 2013 sponsorship, advertising, and table packages here. 

Individual ticket options:

 

Online preregistration is now closed. You can register over the phone until 5:00pm Friday. Call 212-297-2133.

**